Hello and welcome to my site. A personal page for me to blog about my experiences, spur of the moment thoughts, feelings, travel, and etc. I hope you have fun reading my entries as much as I enjoyed writing them. Please feel free to leave your comments and messages.

It's been a while since I last wrote an entry for Yummy Sunday. I always seem to forget to take a picture of a dish I like. A good example is this one. If you look at the picture closely, you'll notice that I just scattered the left overs on the plate since a big portion of the salad already went down to my stomach. LOL!
Anyways, since it's Valentine's day, I would like to feature this chicken salad from Mile High Diner, Tagaytay. It's really good! I loved the the dressing because it felt really light. Plus, the chicken was cooked softly. Everything on the menu there seemed quite pricey for me. So, you'll have to think twice in going there if you're under a tight budget. But I assure you that everything they serve has a generous amount of serving. This plate for example was good for two people already... And aside from good food, you could actually have the American dining experience in Mile High because the whole place was fully decorated that way. Most of the peices on their walls was a picture of Marilyn Manroe and Elvis Presley.
There located just beside the main road of Tagaytay along with different other restaurants which looked so fun and romantic. The whole site is inviting because of the fascinating lights that blended along with the view of the city just below the mountain each night.
Have a HAPPY YUMMY SUNDAY EVERYONE!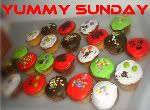 4 Comments:
February 14, 2010 at 5:17 AM

 

uy, pang-balentyms dinner. :)

February 14, 2010 at 8:55 PM

 

Thanks for joining today. Your food still looks yummy!

February 15, 2010 at 4:26 PM

 

Wow looks yummy. favorite ko ang salad. kahit anong klase fruit, vegetable or anything meat salad
Thanks for sharing

February 15, 2010 at 4:28 PM

 

Nice to be here. sarap sigurado nyan..